While Virginia winters are mild compared to those in the northern United States, cold weather can nonetheless bring many dangers for farmers. As climate change increases the intensity of storms, Virginia farmers should prepare their farms for potential emergency weather conditions. Winterizing your farm will help protect you against costly winter accidents and can save you a lot of money on your energy bill. 
Why Start Winterizing Now?
When fall rolls around, many Virginia farmers focus all of their attention on harvesting the last crops of the season and don't really consider how they will prepare for the upcoming winter. These farmers put off winterizing their farm until cold weather actually sets in. But it's much more difficult to perform necessary repairs and upgrades around the farm when it's cold and wet outside, and some repairs end up taking longer than expected! Because of this, Oregon State University found that late summer to early fall is the best time to do farm safety inspections to prepare to winterize. Now that the temperature is beginning to drop, farmers should follow these steps to figure out what work they'll need to do to winterize their farm so that they can appropriately allocate time and money to the project.
How to Start Winterizing this Fall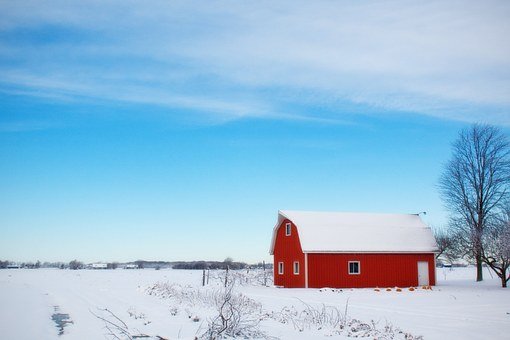 The first step for any Virginia farmer looking to winterize a farm is to conduct an inspection of the entire property. The inspection should include farm machinery and equipment, all farm buildings, gates, wiring, pesticides, and pathways. Conducting a thorough inspection of the farm will allow you to make a more accurate plan about what work needs to be done over the next couple of months before bad weather sets in. The repairs should include replacing the batteries, hydraulic fluid, and antifreeze as needed in all farm equipment and vehicles. If it will be too time-consuming or expensive to clean, service, or repair something found to be damaged, make a plan for fixing it before winter starts.
Another part of winterizing the farm is storing all pesticides to be used for planting in the spring. Any pesticide application equipment should be thoroughly cleaned so that it can be safely stored. Pesticides should also be stored away, provided they will not expire before they will be used again. Make sure to correctly dispose of any pesticides so you don't damage your soil or water supply. 
Preparing Your Farm House for the Winter
Virginia farmers who start winterizing their homes and farm in the fall are able to make significant improvements that save a lot of money on the energy bill. Drafty farmhouses cost up to 15% more in heating because of insufficient insulation. This fall, consider adding additional insulation under the floors, in the attic, and in between the walls to make the house more energy-efficient – and comfortable – this winter. In addition to increasing the house's existing insulation, buying new floor-length window treatments or thermal shades can create an insulated layer to protect your home from the cold.