Buying the Right Virginia Farm: Tips for First-Time Buyers
Buying a farm in Virginia is an exciting and fulfilling process, but it can also be overwhelming, especially for first-time buyers. The process of buying a farm involves many steps, from finding the right property to securing financing and completing the sale. In this article, we'll outline the process of buying a farm in Virginia and provide tips for first-time buyers to help ensure a smooth and successful transaction.
Determine Your Goals for Your Virginia Farm
Before you begin your search for a farm in Virginia, it's important to determine your goals. What are you looking for in a farm? Are you interested in growing crops, raising livestock, or simply owning a piece of rural property? Answering these questions will help you determine the type of farm you want to buy, as well as its size, location, and other important factors.
Location, Location, Location: Choosing the Right Area
Once you have determined your goals, you'll need to choose a location. Virginia is a large state with diverse regions, so it's important to consider which area will best meet your needs. Factors to consider when choosing a location include climate, soil quality, proximity to markets, and access to resources like water and electricity.
Finding an Agent with Virginia Farm Experience
Finding a reputable real estate agent is an important step in the process of buying a farm. A real estate agent can help you find farms that meet your needs, negotiate the terms of the sale, and handle all of the paperwork involved in the transaction. When choosing a real estate agent, look for someone who has experience working with farms and rural properties.
What to Look for While Touring Virginia Farms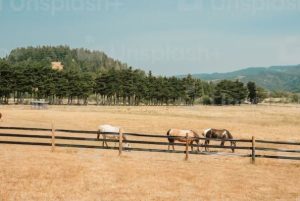 Once you have found a farm that you're interested in, it's important to inspect the property thoroughly. You should look at the land, the buildings, and any other structures on the property. It's also a good idea to have a soil test conducted to determine the quality of the soil and any potential issues that need to be addressed.
Getting the Right Farm for You
Securing financing is an important step in the process of buying a farm. There are several financing options available, including traditional bank loans, government-backed loans, and private loans. Before you start looking for financing, it's important to determine how much you can afford to spend. You should also have a solid business plan in place to help you secure financing.
Once you have secured financing, you'll need to negotiate the terms of the sale with the seller. This is where a real estate agent can be especially helpful, as they can help you negotiate the terms of the sale and ensure that the transaction is fair and equitable.
Preparing to Close
After you have negotiated the terms of the sale, it's time to close the sale. This involves completing all of the necessary paperwork, paying any fees and taxes, and taking ownership of the property. It's important to have a real estate attorney review all of the documents before you sign them to ensure that your rights are protected.
Final Tips for First-Time Buyers
Buying a farm in Virginia can be a complex process, but with the right guidance, it can also be a rewarding and fulfilling experience. Here are some tips to help first-time buyers make the most of their investment:

Consider your long-term goals: Think about what you hope to achieve with your farm, whether it be for hobby farming, commercial agriculture, or both. This will help you narrow down your search and find a farm that meets your needs.

Research the local market: Familiarize yourself with the local real estate market and the different types of farms available for sale in Virginia. This will give you a better understanding of the prices and features you can expect.

Consider the costs of maintenance: Owning a farm involves many costs, including equipment, supplies, and labor. Make sure you have a clear understanding of these costs and factor them into your budget.

Take your time: The process of buying a farm can take several months, so it is important to be patient and take the time to find the right property.

Seek advice from professionals: Seek advice from an attorney, accountant, or other professional to help guide you through the buying process and ensure that everything is done correctly.

Network with local farmers: Connect with local farmers and attend agricultural events and trade shows to learn more about the local agriculture industry and gain insights into running a successful farm in Virginia.

Be flexible: Be open to compromise and be willing to consider farms that may not meet all of your criteria. Finding the perfect farm may require some compromise, but the end result will be worth it.