---
---
Farms for Sale in Virginia
Agriculture has been integral to Virginia's identity for centuries, even before the English founded their colony at Jamestown. Native Americans chose to settle in Virginia because the soil was so verdant and the climate so protective that they were able to produce a surplus of crops and store extra for the winter. Once the English colonists settled the area, the Native Americans passed on their extensive agricultural knowledge of the area to help the colonists survive. Today, Virginia has a reputation for successful agriculture, and the state's largest industry continues to expand each year!
Virginia farms grow and raise a dozen different commodities from leaf tobacco, the state's historic cash crop, to corn, turkeys, cattle, and soybeans. Virginia's agricultural regions specialize in different commodities based on the climate, rainfall, and soil type. Agriculture is one of Virginia's top industries, and the state is constantly investing in agritourism (including to vineyards and wineries), agricultural education, and agribusiness to support local farmers. Because of this, Virginia farms for sale provide amazing opportunities for both farmers and investors to join the bustling agriculture industry. 
Virginia Farms by the Numbers
Virginia has more than 43,000 farms

Agriculture in Virginia is a $70 billion industry

32% of the state (7.9 million acres) is used for farmland

The average Virginia farm is 180 acres

Almost 500,000 Virginians are employed by farms

About 87% of Virginia's farms are privately owned by individuals or families
Top Commodities on Virginia Farms
While Virginia's verdant soil and mild climate ensure that many different crops and types of livestock thrive, there are certain commodities that are best suited to grow or raise in Virginia. Of all the states in the country, Virginia is consistently one of the top ten producers for each of the state's top agricultural commodities. If you're considering purchasing a Virginia farm for sale, consider what crops and livestock you're interested in, and the best part of the state for that type of agriculture.
Virginia's Top Livestock and Animal Product Commodities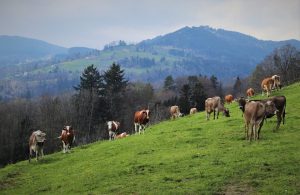 Broilers – Virginia's largest farm commodity, broiler farms sell chicken meat to grocery stores and restaurants with an annual market of $875 million.

Cattle and Calves – Virginia has 23,000 farms with cattle, and the farms are concentrated in the Piedmont and Mountain regions. 

Turkeys – Virginia farms are the 6

th

highest turkey producer nationally, with over 16 million turkeys raised annually.

Dairy products – While dairy products are a significant commodity, there are few new dairy farms opening in Virginia due to declining prices and a decreasing demand.
Virginia's Top Crop Commodities
Soybeans – Virginia's number one cash crop, soybeans are well-suited to every region of Virginia and bring in over $200 million per year.

Corn – Much of Virginia's corn is grown for grain, and corn sales in the state generate over $170 million in revenue annually. 

Wheat – While wheat can be farmed across the state, most wheat grown in Virginia today is soft red winter wheat grown in Northern Virginia.

Hay – Hay is a top choice for farmers in Virginia as there is a ready market of other farmers across the state.

Tobacco – The state's historic moneymaker, Virginia is 4

th

in the nation for tobacco production and the industry generates $81 million annually from just the unprocessed leaves. 
Virginia's Agricultural Regions
Virginia's climate, rainfall, and soil type differ from region to region, so each region is best suited to certain types of crops and livestock. If you're looking for a Virginia farm for sale, it's important to be aware of the strengths and limitations of different areas of the state, particularly if you're interested in raising or growing a particular commodity.
---
Tidewater – This region is on the coast borders the Chesapeake Bay and Atlantic Ocean and has light and sandy soil. The Tidewater is home primarily to cotton, soybean, wheat, and corn farms, and it also specializes in high-quality peanuts. 
Piedmont – This region of Virginia is known for its heavy, clay-based soil. Crops such as tobacco thrive in this region. Other crops including turfgrass and winter wheat also do well in the climate and soil of the Piedmont region. 
Allegheny Plateau – Located in the western corner of Virginia is the mountainous Allegheny Plateau region. This land is ideal for livestock, and cattle farming is the most common type of agriculture in the region. Due to the relatively cool temperatures in this region, crops such as burley tobacco and Christmas trees thrive here.
Ridge and Valley – This region encompasses Virginia's Shenandoah Valley and Blue Ridge Mountains. The southern half of the region is rockier and hillier, and less conducive to growing crops. Like the Allegheny Plateau, many of the farms in the southern Ridge and Valley region are for beef cattle, dairy cows, and sheep, as the land is best used for pasture. The northern part of the region is home to many apple and peach orchards. Rockingham County is famous for its high output of quality poultry and is known as the "Turkey Capital of the World."