Virginia's soil and temperate climate are ideal for growing wine grapes, but since Virginia's wine industry has taken off in local years, local wineries can't seem to get enough fruit! Many farmers in Virginia looking for financial security are transitioning to growing wine grapes since the demand is only going to grow in the next few years. Wineries generally buy grapes by the ton, so farmers can easily sell off their entire harvest to a single buyer. Whether you're considering buying a farm in Virginia for the first time or transitioning your current farm to wine grapes, consider this advice on finding the right winery to sell to and how to pick the best wine grape varieties for your farm.
Finding a Virginia Winery to Buy Your Grapes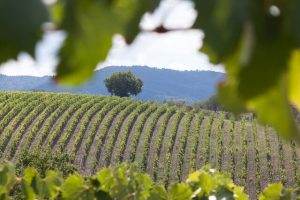 Virginia farmers who want to sell their grapes to local wineries need to find the right fit. Given the sheer number of Virginia wineries opening every year, there is no shortage of potential buyers in need of wine grapes. For farmers looking for the right buyer, the biggest difference between wineries usually comes down to the scale of the operation. Larger wineries need more fruit and tend to be less picky about the quality. Smaller wineries, on the other hand, may pay more for the grapes they buy, but purchase in smaller quantities and demand higher quality fruit. 
Farmers should speak with local wineries to learn what kinds of grapes are in demand in their area. If most of the established wineries in your area are small, boutique operations, then high-quality, low-yield grapes might be the most in-demand. To get these high-quality grapes, farmers have to remove some bunches of immature grapes from the vine so fewer grapes are competing for nutrients. But if you find a larger-scale operation to partner with, you'll make more money if you cultivate higher yielding vines, as they are often willing to buy lower quality fruit. 
Selling Your Grapes – And Making a Profit
For many farmers, growing and selling wine grapes to local Virginia wineries is a method for ensuring their family's financial security. If this is your primary concern, find a larger-scale operation to sell your grapes to. Larger operations will purchase more grapes, even from higher-yielding vines. Additionally, farmers who develop a relationship with large wineries have the stability of a guaranteed buyer for their entire yield every year. Growing wine grapes helps to ensure your family's long-term financial stability, as well: After retiring, farmers can continue to get an income from their established vines by leasing their farmland to another farmer or a winery itself. 
Picking the Right Grapes for Your Farm
Virginia is known for having a particularly hospital climate and quality terroir for wine grapes, but different regions are better for certain grape varieties than for others. Your farm's soil and weather are the biggest factors you'll need to consider when determining which wine grapes to plant. You'll need to have the nutrient levels in the soil tested and to determine what kind of soil you're working with. Different grape varieties require different levels of nutrients and different soil types, so you'll want to pick a variety suited to your land. Wine grape varieties also differ in the cold weather conditions they can withstand, so you'll need to consider your farm's number of frost-free days and the average timing of the last frost when choosing varieties. While many varieties will not grow well in colder areas of Virginia, hardier North American wine grape varieties thrive there.
If you are interested in owning a Vineyard or Winery in Virginia check out our list of Virginia Wineries for Sale here.