Have you recently decided to live life at a slower pace? Perhaps you have decided to put down roots in a beautiful Virginia farmhouse and now all you need to do is decorate. Your beautiful new home is a true old farmhouse and you want to keep the aesthetic without feeling as though you have stepped back into an earlier time. In 2021, like many things, farmhouse decor style has changed. Rooms that once were covered with words and phrases, cutesie animal prints, red and white checkered patterns and big sliding barn doors have been replaced with a simpler more refined farmhouse look.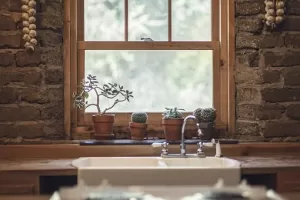 Farmhouses were originally the place where farmers, after a long hard day, would come home to relax and renew with their families. This means that the "decor" in these old farms was simple, easy to care for and rustic since everything was sourced and created with nearby materials. This year farmhouse style will take a more modern approach than in years past with a nod to the style of a simpler time. This is what has changed in farmhouse country chic in 2021.
Neutral Tones
The neutral tones of years past remain. Homeowners find comfort in traditional and neutral colors such as whites, beige, grays and blues. These neutral colors are simple, easy to work with and create a soothing environment to help the homeowner relax after a long day. If the idea of all neutral decor feels boring to you, don't worry you can break up the monochromatic neutral look with darker tones of your neutral color. For instance, if you have decided to use a light gray on your walls, adding dark grey pieces in the form of throws, pillows and small pieces of furniture will create dimension and give your eye a place to land.
Clear Walls/spaces
In the beginning, farmhouse decor style began as a relaxed homey style option. As time went on homeowners began to add farmhouse style word signs and cute farm animal images to anything and everything. No wall, vase or pillow was safe from the cute farm look. In 2021, homeowners have already begun to peel back the excess and get back to basics. One way to add farmhouse decor style without going overboard is to create a focal point in your rooms. Choose a wall, mantle or the top of a console table and decorate with your favorite farmhouse pieces. Then clear out the rest. This allows you to incorporate plenty of blank spaces creating a sense of balance and a soothing place for your eyes to rest. 
Found Items
Although you want to create a less cluttered and more soothing environment for you and your family, you do want to add some character. Spend some time searching thrift stores, yard sales, consignment shops or your attic for the perfect vintage and antique items. These items will add character and warmth to your home. Incorporating older and repurposed items can increase that cozy farmhouse feel and add interest and history to your decor without adding clutter. 
Nature Inspired
Oftentimes homes bathed in light neutral tones can make your home feel a bit cold. You do not need to add clutter to create warmth and depth to your home nor do you have to paint your walls deep dark colors. Natural elements used throughout your home will create a warm and inviting country chic farmhouse look. Use wood accents such as exposed ceiling beams and add larger potted plants here and there judiciously throughout. The use of stone and marble accents on surrounds, cabinets and mantels will also help take your home to the next level of relaxed country chic farmhouse style.
Farmhouse furniture with a modern update
Update your homes' furnishings with a mix of old and new. Farmhouse style pieces are given a more modern feel with the addition of accent pieces and colors. An old wooden bench for example may have metal legs and an old wooden chairs' seat may be upholstered or covered in faux leather. The bronze accent pieces of years past have given way to gold and silver accents providing a slightly more glamorous appearance. Wood pieces such as free standing cabinets and console tables have exchanged their black paint and distressed look for clean fresh colors and smooth wood finishes. Gone are the days of the all or nothing farmhouse decor style. Today mixing and matching the old with the new and farmhouse style with modern creates a new farmhouse aesthetic of country chic style that is both comfortable and modern. 
As you walk through the rooms of your newly purchased Virginia Farmhouse, take a good look around. What is the first wall you see? What area catches your eye in the living room, foyer and kitchen? Look up and around. What elements are original to the home that can add warmth and character? We all want a home that allows us to rest and relax at the end of a hard day. When designing your new home, the most important thing to remember is that there are no hard and fast rules. Your home, your design and your personal sense of cozy comfort is all you need to create a beautiful oasis for you and your family for years to come.