As you very well know from my previous blogs, fall is my favorite time of year! Especially living on a farm because this is when the majority of our veggies come into season. I get to enjoy green beans, corn, pumpkin, squash, kale, tomatoes, jalapeno's, cucumbers, grapes, apples, peaches and much more. Having fresh veggies each night is such a treat but also I take advantage of canning or pickling some of my bounty to enjoy all year long! My favorite items to can would be green beans which I turn into "dilly beans", bread N' butter pickles, pepper relish, apple butter or applesauce and salsa! Here is my recipe for dilly beans which is our family's all-time favorite!

Dilly Beans

This yield (2) one quart canning jars so I double recipe
2lbs of green beans

2.5 cups white vinegar

2.5 cups water

¼ cup canning salt

2 jalapeños sliced with seeds

4 garlic cloves

2 tsp dill weed

(2) 1 quart sterilized canning jars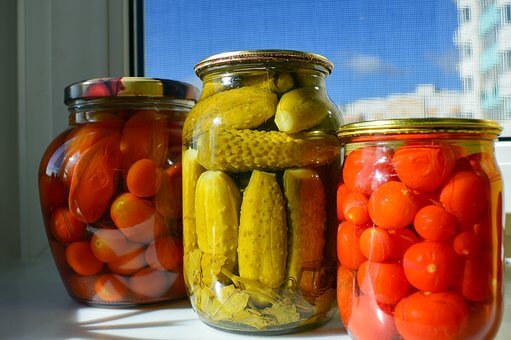 Set lids and rings into boiling water for few minutes to sterilize.

Combine water, vinegar, salt in large pot and bring to boil.

Add 1 jalapeño, 2 cloves of garlic, and 1 tsp dill weed to hot jars.

Trim ends of beans, pack bean lengthwise into hot jars.

Ladle boiling vinegar solution over beans and leave ¼ inch of space at top.

Place lids on jars with rings and turn upside until cool.

Store in cool, dry place for 4-6 weeks then enjoy!

  These go perfect as a snack, fixins for a martini or even a Bloody Mary!

  Fall is not only a great time on the farm because of all the bounty being ready but also we love to gather around the fire pit on cool crisp evenings to enjoy hot apple cider and just relax. Living on a farm provides so many opportunities to grow as a family and enjoy one another's company because of the slower pace it provides (well at times it's a mad house when it's time to harvest!) Having a slower paced life makes you really enjoy the small things in life. Farm life is definitely not for everyone and it takes a little while to get used to. But if this is the life for you and interested in looking at local farm properties for sale, contact our experienced agents at Virginia Estates. Our trusted and friendly staff can help you find the perfect farm property that fits your needs; agents can be reached at (877) 646-8800. Happy Fall!