It is September and autumn is in full swing. Fall is the perfect time to be outside; the air is cool, the sun is shining and every tree is an explosion of color. Now is a perfect time for a weekend excursion to a local Virginia farm for apple picking. This is the season to begin or expand on family traditions. A family outing of apple picking is just the thing for a cosy fall nature filled weekend. Apples are wonderful eaten just as they are, baked in a pie or drunk as hot or cold apple cider. Virginia has quite an array of family farms that have apple orchards, many with pick your own options. Visiting one of these lovely orchards is the perfect way to spend some quality family time. Below you will find 4 beautiful Virginia farms where you can pick apples, tour cideries and take part in cider tastings.
Crooked Run Orchard:
Located in Purcellville, Virginia, Crooked Run Orchard has been in the Brown family for 250 years. The family prides themselves on the farms minimal use of chemicals and for using mineral fertilizer for growing their produce. Walking through their lovely orchards, you will discover 11 varieties of apples. One of the nice things about this farm is that you do not need a reservation to visit and admission is free; you simply pay for the apples you pick. Crooked Run Orchard has buckets on site that you can use for your apple picking or you are welcome to bring your own. In addition to apple picking, the farm has a beautiful natural trail for a family nature walk and picnickers are welcome. There is also a cidery on site that you can tour to see just how apple cider is made.
Mackintosh Fruit Farm:
The small town of Berryville, Virginia is where you will find Mackintosh Fruit Farm. They are open Thursday – Sunday until October 31. According to the farm's website, there is an apple picking fee of $2. After a strenuous morning of apple picking, check out the farm's restaurant. They have a wonderful menu that changes regularly according to what is in season. The amazing apple cider donuts make a delicious sweet end to an afternoon meal and are not to be missed. The restaurant is first come first serve so you will want to begin your day early. If you would like to discover Mackintosh Fruit Farm but can't actually make it to the farm proper, on Saturdays you will find them at the Berryville farmers market.
Stribling Orchard:
Stribling Orchard, located in Markham Virginia, has been in the family for six generations. The farm has 30 acres of apple orchards and 20 varieties of apples from ginger gold to pink ladies. While exploring this beautiful farm you can enjoy viewing the historic buildings on the site. The store located on the farm sells a variety of ciders, jams, jelly's and more. They also have a bakery that sells fresh baked apple pie. You can bring your own food or purchase food on site and enjoy a lovely afternoon picnic with your family while admiring gorgeous views of the Blue Ridge Mountains.
Albemarle Ciderworks:
The final orchard is Vintage Virginia Apples/Albemarle Ciderworks located in North Garden Virginia. The orchard was created to ensure the preservation of heirloom varieties of apples. Although the Orchards focus is heirloom apples, they do grow a variety of other fruits such as peaches, plums, apricots and quince. While Vintage Virginia Apples does not allow apple picking, they do sell their apples out of their tasting room. The farm has a variety of on site events for your enjoyment such as live music, cider tastings and workshops. Although you will not be able to venture out into the orchard proper as this is a working farm, it is worth a trip to enjoy some lively music while sipping a lovely cider and supporting the work of protecting heirloom apples. Reservations are encouraged at the cider tasting room but they do accept walk-ins which are handled on a first come first serve basis.
Below you will find some apple picking do's and don'ts: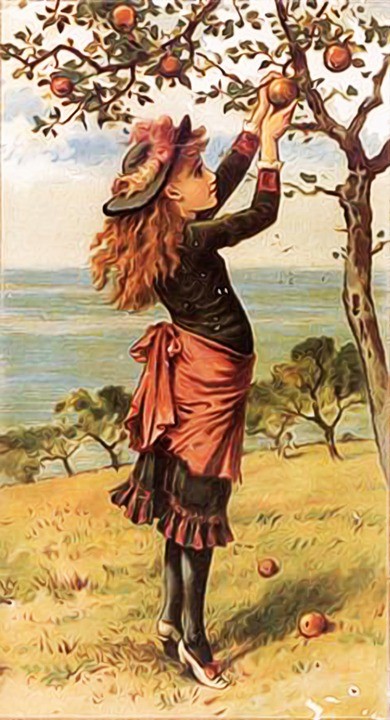 The farmers work hard to raise these beautiful apples to share with the public. Please be mindful of these tips and also be respectful of any rules and regulations that the orchard you are visiting has posted.
Apple Picking Tips
Bring Cash: small farms may not take credit cards.

Bring a tote to put the orchards bag into since the orchards bags can be flimsy

Ask what's ripe – different apples ripen at different times. Look for signs regarding which

rows are open and stick to those areas.

Identify apples ready to be picked. The apple should be firm and feel heavy for its size. Also

check for soft spots, nicks and wrinkles.

Be gentle with the apples. Use a soft touch when picking, giving the apple an upwards twist

and a gentle tug. If it's ripe it should come right off.

Lightly place the apple into your bag or bucket, don't drop it. You want to avoid bruising the

apples as bruised fruit will rot easier.
Apple Picking Don'ts
Don't climb the trees. Branches can break and this can affect next year's harvest.

Twist don't pull. Pulling can inadvertently bring down other apples with it and may damage

the tree.

Put all picked fruit in your bag. If an apple drops on the ground, don't leave it there to rot,

pick it up and place it gently in your bag.

Do not eat apples until you have paid for them.

Do not go wandering into areas of the orchard that are not open to the public. The apples in

that area may not be ripe yet or that area may not be safe. These are working farms after all.
Fall is a wonderful time of year with cool crisp air often mixed with the smell of a fireplace. It is the beginning of the holiday season and the perfect time to be with family in nature exploring the many Virginia farms that are home to a variety of wonderful apple orchards. Gather your family and your buckets and explore the beautiful world of Virginia's apple orchards.